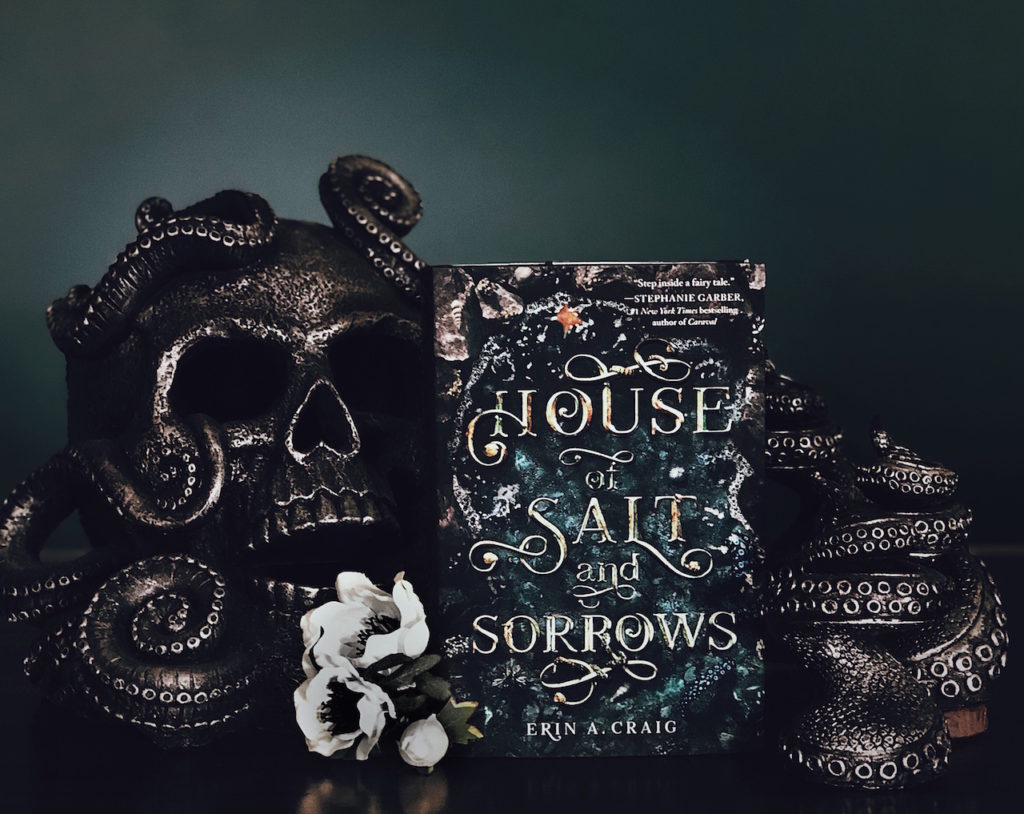 Bibliographic Information: Craig, E.A. (2019). House of salt and sorrows. New York: Delacorte Press. ISBN: 9781984831927
Genre/Format: Horror/Fantasy/Retelling/Thriller/Romance/Print
Reading Level/Interest Level: 14+
Plot Summary: Annaleigh lives in a manor by the sea with her sisters, father and stepmother. There were once twelve girls, but as each sister perishes in a strange way whispers and rumors spread about the cursed sisters of Highmoore. With her closest sister's recent death Annaleigh begins to question if her death was truly an accident and begins investigating.
Meanwhile, her stepmother convinces their father to forgo their traditional practice of mourning for a year. Out of mourning her sisters celebrate by going dancing every night until dawn. These magical dances though are not all they appear and Annaleigh wonders just who are they dancing with. As she comes closer and closer to what she thinks is the truth she may find herself questioning her own sanity.
Author Background: Erin A. Craig has a BFA in Theatre Design and Production from the University of Michigan. She went on to become the Director of Production and Stage Manager at Opera Memphis where she worked on a number of productions before deciding to become a full-time writer. House of Salt and Sorrows is her debut novel. When she isn't writing she loves reading, quilting, collecting type-writers and cheering for the Memphis Grizzlys.
Book Talk: For fans of fairytale retellings and gothic horror, be transported to the sea and the cursed sisters that live there. Once there were twelve of them, now only eight. Each night the girls dance their until their shoes are falling apart, but not everything is as it seems. Are these deaths an accident, or are they truly cursed? And if so, who will die next?
Critical Evaluation: This book was deliciously creepy and mind-twisting. Dark and twisting, this gothic horror does a great justice to its inspiration, the Grimm fairytale The Twelve Dancing Princesses. The book is incredibly atmospheric, transporting you to the dark, gloomy manner by the sea where eight girls mope around in their black attire. The descriptions of the sea, the salt and brine, and the mourning traditions of this family and this island transport readers right into the setting. The eerie setting add to the provocative mood this book evokes.
Characterization is not necessarily the strongest in this book. With eight sisters still living at the beginning of the book, the reader never gets a complete feel for all of them. With some referred to as "the twins" and "the triplets" the author casts about to establish those closest to our lead character explicitly while leaving others up to the imagination. The lead character, Annaleigh, however, is well characterized as you navigate the story through her first-person point of view. When the author twists the tale in a way that makes her an unreliable narrator you feel the horrifying feeling of wondering if you are going mad along with Annaleigh. The move to use the first-person point of view in this instance was well done as it allows the reader to move with Annaleigh through her feelings.
As this story is a retelling, the author should be praised for incorporating the essence of the original fairytale while also spinning it in a new and unique way that keeps the reader turning the page in a desperate attempt to find out what is happening.
Creative Use: With the dark elements of this book it would be a fun book to include in a Halloween display. It could also serve as a comparison of fairytales.
Potential Challenges: This book is creepy. It does not have strong language, minimal violence, and very little mention of sex. However, given the content of it being a gothic horror, I anticipate some parents may simply object based on that. There is mention of ghosts, there is death and talk of possible suicide, which may upset some.
Rationale for Inclusion: This book was included because it was a well done psychological horror book that will entice readers without being gory or too explicit.